WELCOME TO MY PAGE


Welcome to my page,right now i'm working on it-adding stuff,changing stuff,and getting rid of stuff.But you can still go to all the things on my page.


Click here to goto a review on the Foo Fighters concert i went to
Go here to read a concert review writen by me that i submitted to this Blink 182 site,goto into concert review part.

Look! I'm actually putting new stuff up on my page,i now have sounds for L7,and i'm working on my Marilyn Manson page,so you can come back and find new stuff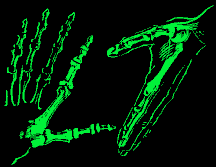 As you can tell by going through my page i have taken out all thing that used to say "Skanky Spice".I have gotten tired of 3 things by using this name.
1.Most people thought i was female.
2.They,if they knew i was a guy,thought i was gay.
3.They didn't know what skanky meant and thought i liked the Spice Girls,which i hate.

Okay if you want to, click here to learn about me.

Please click on the banner below,it's my sponsor,so i have a reason to more new stuff up,ok.




Sign My Guestbook
View My Guestbook
---
---

You are visitor